Proactive since its foundation, in the early 2000s the ISPL began expanding its research activities on advanced technologies for sound synthesis for musical applications; as well as space-time processing for sound field analysis, reconstruction and control; and music information retrieval.
Thanks to an ever growing number of EU-funded projects, as well as national and international grants, the activities grew to the point of motivating the ISPL to create new laboratories and facilities. In 2013, the Musical Acoustics Lab was established within the prestigious Violin Museum of Cremona. Today these laboratories are also part of the PoliMI Sound and Vibration Lab, an inter-dipartimental laboratory with advanced facilities for vibrations and acoustics.
With Space-Time audio processing we refer to a number of technologies that enables the analysis of complex sound scene that evolves in both time and space. We are actively studying:
localization, tracking and separation of acoustic sources through microphone array data analysis
advanced rendering of acoustic scenes using loudspeaker arrays
3D audio capture and rendering
sound field reconstruction and analysis based on machine intelligence
More about space-time processing
DISTRIBUTED MICROPHONE NETWORKS
The use of low-cost devices for acquisition of audio streams is becoming widespread. In this context, the space-time processing research community is interested to enable functionalities such as source localization and separation, denoising etc. on such devices, to keep at bay the cost of equipment. Our research activity aims at attaining this goal with ad-hoc algorithms to overcome the inherent challenges that pop up when one intends to use multiple independent devices. In particular, the research activity focuses on synchronization of streams acquired with different clocks, self-calibration, and reduction of the computational cost of space-time processing algorithms.
ACOUSTIC SCENE ANALYSIS AND RENDERING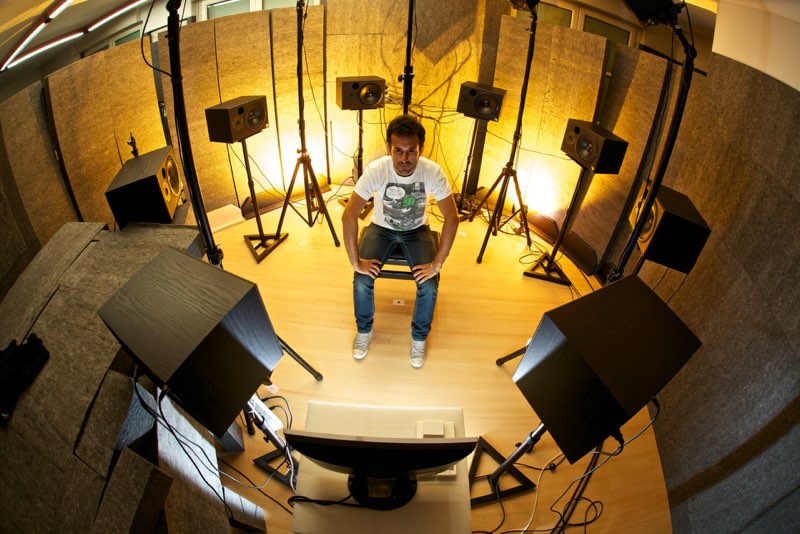 The use of microphone arrays for the analysis of acoustic scenes has been a hot research topic for the last twenty years. Recently, ISPG has developed the plenacoustic framework: a representation of the sound field as a function of time, space, and direction of propagation, in which acoustic primitives of interest (such as sources, receivers, reflectors, etc.) are conveniently represented as linear patterns. It is therefore easier to perform tasks such as source localization, localization of reflectors and obstacles, extraction of acoustic sources from mixtures, etc.
ISPL also works on the rendering of acoustic scenes through loudspeaker arrays. In this context different methodologies have been proposed, from Ambisonics to Wave Field Synthesis, the most recent of which is based on the use of the plenacoustic framework.
MODELING OF PROPAGATION IN COMPLEX ENVIRONMENTS
Accurate and fast tracing acoustic paths from source to listener in complex environments is of great interest to architects and engineers to predict the acoustics of complex environments, such as auditoria, cinemas, theatres, etc. before their building. Moreover, accurate modeling of propagation is crucial for the rendering of virtual environments, e.g. immersive gaming and walkthrough. Inter In the last ten years ISPL has developed methodologies for accurate and fast tracing of acoustic beams based on a pre-computation of the mutual visibility between walls of the environment. Once this information has been computed in advance, and source and receiver locations are specified, the tracing of acoustic paths consist of a simple lookup on the pre-computed data structure. Techniques have been developed for both complex 3D and 2D environments.
BINAURAL RENDERING
In order for a binaural stream to deliver the sense of presence, a suitable modeling of the Head Related Transfer Function (HRTF) must be implemented, which models the response of the ear of the listener to sounds incoming from different directions. Every person has its own HRTF, and the use of a wrong HRTF impairs the listening experience. ISPG is developing techniques for accurate and simple personalization of the HRTF, by means of both direct measurement and prediction.
Related publications
2020
2019
2018
2017
2016
2015
2014
2013
2012
2011
2010
2009
2008
2007
2006
2005
2004
Past projects:
SCENIC (Self-Configuring ENvironment-aware Intelligent aCoustic sensing) is a European project funded under the Future and Emerging Technology initiative concerning environment-aware geometric acoustic processing.
ORIGAMI A new paradigm for high-quality mixing of real and virtual – a European project (STRP) concerning the development of advanced technologies for film and TV productions.
The activity of ISPG in the Musical Acoustics lab in Cremona is twofold: on one side state-of-the-art analysis techniques are used to measure acoustic parameters of instruments. Vibrometric measurements using laser vibrometer or accelerometers and instrumented hammer are used to estimate in a short time the patterns of vibration modes. On the other side ISPG focuses also on innovating the measurement methodology, thanks to the achievements attained in the space-time processing research area. An exemplary case is the introduction of a novel technique for the measurement of the radiation pattern of violins, which does not require the instrument to be played by mechanical bows and does not constrain the player to unnatural poses.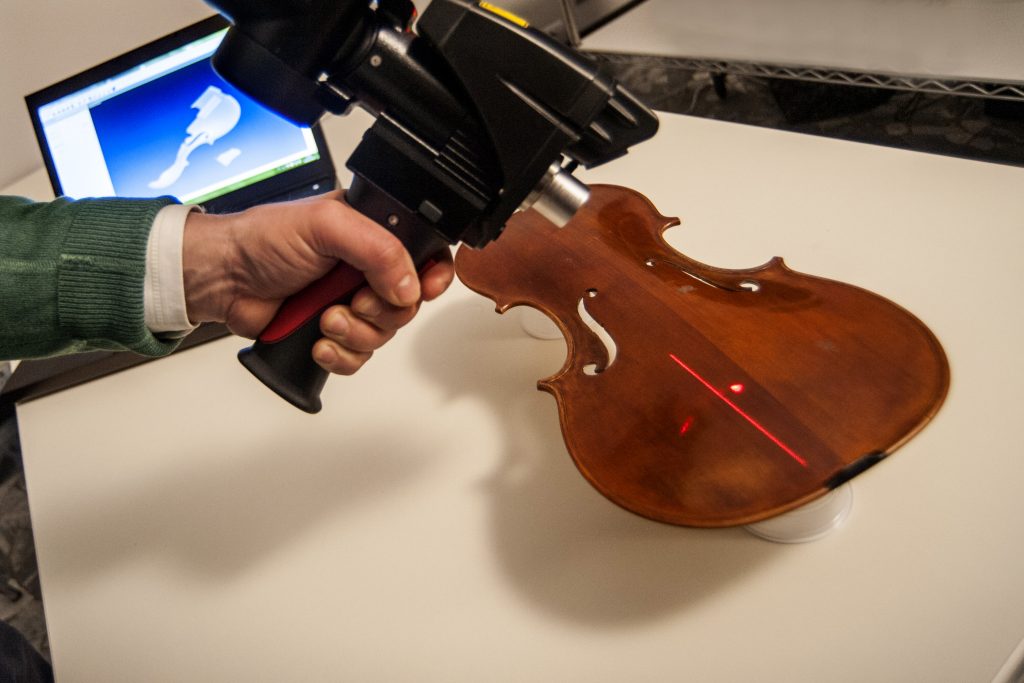 More about the Musical Acoustics Lab
The Musical Acoustics Lab is located in Cremona, in the "Palazzo dell'arte" ("Palace of the arts"), where the prestigious Violin Museum is. Founded in 2013, the Lab builds upon the expertise of the Image and Sound Processing Group (ISPG) of the Dipartimento di Elettronica, Informazione e Bioingegneria (DEIB) of the Politecnico di Milano, with the collaboration of the Department of Mechanical Engineering. The Lab was established with the financial contribution of the Arvedi Buschini Foundation and the CARIPLO Foundation (Progetto Distretto Culturale di Cremona). The Lab closely collaborates with the Arvedi Laboratory of Non-Invasive Diagnostic Analysis of the University of Pavia, and shares some lab space with it. The Lab capitalizes on the experience of ISPG in the areas of audio/sound processing, computational acoustics and machine intelligence, as well as the experience of the Dept. of Mechanical Engineering on vibro-acoustics analysis. The Musical Acoustics Lab is focused on improving the quality of acoustic musical instruments (particularly stringed instruments of contemporary and classical luthiery) as well as listening environments.
Rendering room – 8m x 5m phono-insulated, vibro-insulated semi-anechoic room for timbral and acoustic measurements and acquisitions, as well as experiments of spatial audio rendering. The room rests suspended on vibro-absorbent material and is completely covered with phono-absorbent material over a wide range of frequencies. The inner acoustics can be altered using reconfigurable acoustic reflectors, enabling experiment of room acoustic analysis and reconstruction, and recording sessions in different acoustic conditions. The semi-anechoic behavior enables experiments of olophonic and plenacoustic rendering based on speaker arrays as well as experiments of spatial acquisition/capture of acoustic fields. The rendering room is equipped with a fourth-order ambisonics rendering dome of 32 high-resolution Genelec speakers for immersive musical listening experiences.
Vibro-Acoustic Analysis Lab – equipped with all the instrumentation that is necessary to acquire high-resolution 3D models of musical instruments; to measure, model and analyze its vibrational behavior; to measure/estimate its radiative behavior. As far as 3D modeling is concerned, the Lab is equipped with a laser scanner for large objects, thickness gauges, advanced software for surface modeling (patchwork as well as levelset methods). As fare a vibrational analysis is concerned, the lab has a range of calibrated measurement accelerometers, calibrated hammers, etc. and a laser interferometry laser for non-invasive measurements on historical instruments. The Lab also has a high-resolution capturing system of 64 measurement microphones for holophonic acquisition of acoustic fields in close proximity (non-invasive reconstruction of vibro-acoustic behavior of soundboards and radiative surfaces).
Control room – equipped with a mobile professional-grade high-resolution spatial audio capturing system for live events. In addition to the mixing system and the professional microphone equipment, the lab also has an Eigenmike, an integrated full-sphere acoustic camera with 32 microphonic capsules that can be used for implementing and controlling virtual microphones, e for spatial audio acquisitions of live events.
Related publications
2023
2022
2021
2020
2019
2017
2015
Wave Digital Filters (WDFs) are a particular kind of digital filters based on physical modeling principles. They were initially developed by A. Fettweis in the 1970s for digitizing lumped electrical circuits.
In the last two decades, WDFs have been used to accurately develop digital implementations of reference analog systems represented as electrical circuits. Circuit elements and topological junctions are modeled in a modular fashion by means of input/output blocks characterized by scattering equations. The Kirchhoff variables, voltage and current, are substituted with wave variables, leading to several numerical advantages. For instance, linear circuits and circuits with up to one nonlinear element can be modeled employing stable discretization methods without the need of any iterative solver. Moreover, the WD approach allows us to separately handle circuit topology and element description, giving rise to very efficient iterative methods. In the field of digital audio signal processig, WDFs have been used for Sound Synthesis through physical modeling, for the digital implementation of microphone arrays, and last but not least for Virtual Analog modeling, i.e., the practice to digitally emulate audio analog gear.
Related publications
2023
2022
2021
2019
2018
2017
2016
2015
Music Browsing Systems, Music Emotion Recognition and Segmentation, Chord Tracking, Beat Tracking, Musical Instrument Feature-based Timbral Analysis.
Past projects:
WhoLoDancE aims at developing and applying breakthrough technologies to dance.
Related publications
2019
2018
2017
2015